This summer, the Olympics are taking place in Tokyo after being postponed last year due to the COVID-19 Pandemic. There has been an impressive number of Black athletes who are expected to participate and showcase their athletic skills. This includes the current fastest woman in the world, Shelly-Ann Fraser- Pryce from Jamaica, running the 100m race. Her time of 10.63 is second only to the late Florence Griffiths- Joyner, also known as Flo-Jo. Hammer thrower and activist Gwen Perry, jumper JuVaughn Harrison. Not to mention Simone Biles, currently one of the most dominant gymnasts and athletes in the world. However, the Tokyo Olympics have garnered attention for its implied potential subtle racism and overall controversies.
The controversies began with breakout runner Sha'Carri Richardson, who favoured participating in the Olympics to represent America after her impressive qualifying run. Then she tested positive THC, and her chances of competing were diminished after she was issued a one-month suspension, and then it was announced by the U.S. team that Sha'Carri would not be running at the Olympics. Richardson took responsibility and apologized publicly after saying she used marijuana after feeling pressured and coping after finding out about the death of her biological mother through a reporter. This incident caused some people to wonder if the rules around weed should be modified as marijuana is not a performance-enhancing drug. Then, journalist and known hater Claire Lehmann falsely accused Richardson and the late Flo-Jo of using steroids, stating their long nails and hair. To which the internet and Black Twitter promptly got her together. Both women wore acrylic nails (Flo-Jo was known for this), and Shar'Carri's beautiful orange hair was a wig she says was chosen by her girlfriend.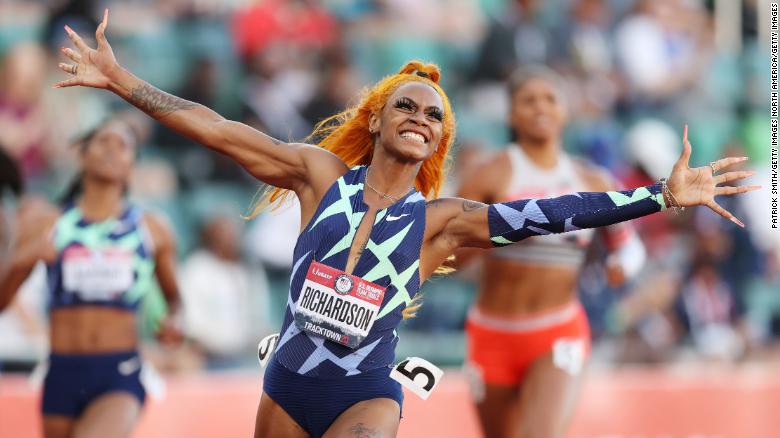 Moreover, the Tokyo Olympics caused an uproar for banning swim caps that Black women wear for natural hair, made by the company Soul Cap. FINA (which is short for Fédération Internationale De Natation, the federation for international competitions in water sports) made a statement. They said to the "best [of their] knowledge, the athletes competing at the international events never used, neither require to use, caps of such size and configuration." Then added that the styles were unsuitable for competitions because they don't "follow the natural form of the head." This statement is even more disappointing after celebrating Alice Dearing becoming the first Black female swimmer to represent Britain in Olympics.
Additionally, two 18-year-old female Namibian runners, Christine Mboma in Poland and Beatrice Masilingi in Zambia, ran their 400-meter races exceptionally well. Their wins raised eyebrows because Namibia is not known for track and field like Kenya, for example. The girls were tested, and the results found that they were not doping but that the women produced high levels of natural testosterone. Their testosterone levels allegedly violated the World Athletics rules on the hormone. This rule was seemingly put in place in 2018 to not so subtlety shut out South African runner Caster Semenya. The rule states that women and only women with high testosterone levels that exceed a specific limit will not be allowed to partake in events between 400 meters and one mile (these are the races that Semenya participated in). The women are given an option to take side-effect inducing drugs to lower their testosterone hormone levels or switch events. Both women opted instead to drop down to the 200-meter race. The unfairness here is that their hormone levels should be a natural advantage like Michael Phelps' wingspan or Kawhi Leonard's massive hands. Moreover, the rule doesn't apply to men who may have lower testosterone levels.
The message is evident here; Black women are not wanted. Even though the Olympics are supposed to be the best against the best, it's apparent they only want the best when they are not Black and particularly Black women. The underhanded sexism and racism are apparent in the sports world. The frustration and pain of this form of rejections, microaggressions and dismissals, is why athletes like Naomi Osaka speak about their mental health trouble and yet are not believed or taken seriously. The Olympics need to review change their practices as it relates to female BIPOC athletes. If not, they need to change their stance on stating that this is where the "best" of the world compete, when they only mean the best if they are Caucasian. Until that happens, the Olympics don't deserve to be graced by our presence.